Right now there are a lot of new and returning shows premiering on television, but we can't forget about those that aired earlier in the year. I won't talk about shows that were cancelled or ended (like Fringe, Alphas, and Dexter, all of which you should definitely watch), so every series here will be returning later this year or next year. If you haven't watched these shows latest seasons, be careful of possible spoilers!
Fantasy
---
Game of Thrones (HBO, Drama)
Created by David Benioff (Troy) and D. B. Weiss, and based on the novels by George R. R. Martin, this series had some very memorable events last season.
The third season corresponds more or less to the first half of the third novel, A Storm of Swords. There are a lot of characters and storylines to follow, but here is where the main ones stand: beyond the Wall the White Walkers are starting to show up, while at the same time the Wildlings are moving towards the Wall. Although Jon Snow spends some time with them, he's finally revealed as the crow he really is and has to run back to Castle Back before the wildlings attack the Nightwatch. More to the South the conflict between the Starks and the Lannisters continues. The war seems to be in favour of the wolves, but that soon changes in the ill-fated Red Wedding, which will throw the North into chaos and abandonment. On the other continent Daenerys has been building an army, and as her power grows, so do her dragons. Even the people see her as their "mother" (Mhysa), and the tides seem to have turned for the young Khaleesi.
But when do things actually go well for these characters? Those who have read the books know that next season will also bring some interesting surprises. The fourth season will be the second half of the third book, which leaves us two others.  These two books happen simultaneously, though, so we must assume the series will catch up with the books during the fifth or sixth season. The producers have said they will not wait for the author, which has been taking more and more time to write the books, and that it is probable that the series finishes before the novels.
The fourth season will premiere in March or April of 2014, and it will have ten episodes.  George R. R. Martin will write the script for the second episode.
Teen Wolf (Drama, MTV)
Teen Wolf is directed by Jeff Davis (Criminal Minds) and is a remake of a 1985 film of the same name. The first half of the third season premiered during the summer, and the second half will return this January.
This season starts several months after the ending of season two. A pack consisting entirely of alpha wolves has come to Beacon Hill, and some of the main characters begin to investigate it. Isaac (Daniel Sharman, The Collection) gets captured in the process, but is saved by a mysterious girl (Meagan Tandy, Jane by Design), who also gets in trouble. The number of deaths and strange accidents in the city rises, while Derek and Stiles begin to suspect that this new pack has some ulterior plans for them.
At the end of the season the group lets Deucalion (Gideon Emery, General Hospital), one of these alphas, go, seemingly ending this story arc. Next season will focus on new enemies and problems, with Deaton's warning (Seth Gilliam, The Wire) pending over their heads (that their earlier actions would attract things they haven't faced before). It has already been revealed that there will be a new shapeshifting creature, and this story arc will feature Japanese mythology.
The second part of this third season premieres on January 6th. The show was recently renewed.
Teen Wolf – January 6, 2014

Game of Thrones – March 2014
Horror
---
Being Human (Syfy, Drama)
This series is the American version of the UK show of the same name. The first story arc follows roughly the original story, but the creator Toby Whithouse (No Angels) has since diverged from it.
Last season featured several changes to the group's dynamics. Although Josh (Sam Huntington, Fanboys) is no longer a werewolf, his wife Nora (Kristen Hager, Alien vs Predator: Requiem) is not as lucky. They are trying to recover Sally (Meaghan Rath, The Assistants) from Limbo, and she eventually comes back to life, but with a steep price. In the meanwhile Aidan (Sam Witwer, Smallville) is rescued from his coffin only to discover that an epidemic has killed many vampires. The ones who survive believe his pure blood might be the cure, but later they find out that this is wrong.
As the season progresses, Sally slowly rots away, a "side effect" from being brought to life. Josh and Nora get involved with the flu-cursed vampires (rabid from drinking too much werewolf blood), which doesn't end up well for them.  When Nora wakes up after the full moon she finds her husband still as a wolf, an important story arc in season four. At the same time Aidan finds a woman that looks like his supposedly dead wife.
Amy Aquino (ER) joined this season as Donna, the witch that brings Sally back to life, and will still appear during season four. Mark Pellegrino (Supernatural) will also return. The new season will premiere in 2014.
Hannibal (NBC, Thriller)
Based on the characters of Red Dragon by Thomas Harris, this new series was a pleasant surprise. Developed by Bryan Fuller (Pushing Daisies), some of its episodes were directed by David Slade (30 Days of Night), who has also greatly influenced the series' cinematography.
Bryan Fuller wanted to show a different perspective on the story, specifically on Hannibal. He said,
 "There is a cheery disposition to our Hannibal. He's not being telegraphed as a villain. If the audience didn't know who he was, they wouldn't see him coming. What we have is Alfred Hitchcock's principle of suspense—show the audience the bomb under the table and let them sweat when it's going to go boom."
During this first season we follow Will Graham (Hugh Dancy, Adam), a FBI criminal profiler, as he helps the team with his peculiar skills. He's so empathic that he's able to understand these serial killers they are after, and he can recreate the scene of the crime in his mind. These scenes are always amazingly done, and as the series progresses they are increasingly surreal. Doctor Hannibal Lecter (Mads Mikkelsen, Casino Royale) will also help the team from time to time, as well as work as Will's psychiatrist.
This season's plot happens before Red Dragon and tries to explain how Will Graham and Hannibal Lecter met. The latter has some ulterior interest in the criminal profiler, and starts to play with his mind, pushing him forward in the down spiral he was already walking towards.
Fuller said he planned the series to run for seven seasons: the first three with original content, the fourth with the story of Red Dragon, the fifth covering The Silence of the Lambs, the sixth Hannibal, and the final with an original storyline again. The series has already been renewed for a second season, which should premiere in 2014.
True Blood (HBO, Drama)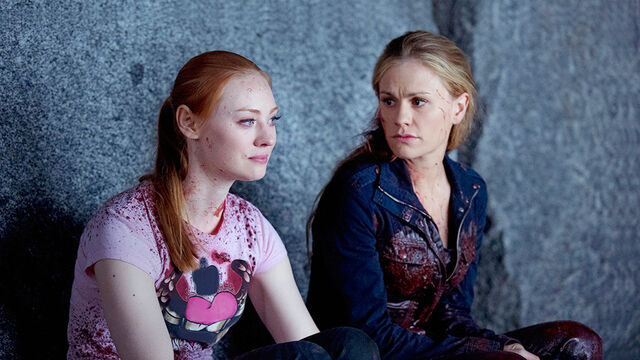 Created by Alan Ball (Six Feet Under), it is based on The Southern Vampire Mysteries book series by Charlaine Harris. Alan Ball has been replaced by Brian Buckner (Friends) in season six and seven.
This season only had 10 episodes instead of the normal 12. It starts with Bill's (Stephen Moyer, Priest) reincarnation as the rest of the group escapes the Authority compound. Alcide (Joe Manganiello, Magic Mike)is now packmaster, which has some unexpected responsibilities, but some perks as well. As Warlow (Robert Kazinsky, Pacific Rim) keeps going after Sookie (Anna Paquin, X-Men), she decides she wants to know more about her past, and recruits Lafayette (Nelsan Ellis, The Help) to summon her dead parents.
In the meanwhile the conflict between humans and vampires escalates. Sookie faces a dilemma in deciding whether to broker a deal between Warlow and Bill, who soon discovers that salvation comes at a price. The season ends with one of the main characters presumed dead, although it has been confirmed that this character will be back, albeit very different.
It has been announced that the seventh season will be the show's last, and the story will reach its finale there. It will premiere next summer.
Being Human – 2014

Hannibal – 2014

True Blood – Summer 2014
Science-Fiction
---
Continuum (Showcase, Action)
Continuum is a Canadian TV show created by Simon Barry (The Art of War) that airs on Syfy. It centres around a group of characters that travel back from 2077 to 2012 and try to influence events in the past/present in order to change the outcome in the future.
This season Kiera (Rachel Nichols, Criminal Minds) is working outside of the law, although she's still getting help from the Vancouver PD. Alec (Erik Knudsen, Scott Pilgrim vs the World) is struggling with the death of his stepfather, as well as the meaning of the message his future self sent him. In the meanwhile, Agent Gardiner (Nicholas Lea, The X-Files) continues to go after Kiera and demanding some answers.
As the season progresses new characters are introduced and new alliances are made. Kellog (Stephen Lobo, Godiva's) makes a partnership with Alec, offering him a laboratory equipped with everything he might need. Sonya and Travis, members of the rebel group Liber8, split up and form their own two sides. Escher (Hugh Dillon, The Killing) and Jason (Ian Tracey, Sanctuary) both play important roles, as they both came from the future and might be more involved than Alec and Kiera suspect. Carlos finally learns the truth about Kiera's origins but supports her nevertheless.
Liber8 continues to be a threat to Kiera's plans, but now there are also the Freelancers, time travellers just like her. At the end of the season she and Liber8 are caught by them and incarcerated, leaving their future rather uncertain. Their fate rests on Alec's hands, who used the time travelling device to, we hope, go back to the past.
The show has been renewed for a third season, which will premiere in 2014.
Defiance (Syfy, Action)
This series was created by Rockne O'Bannon (Farscape), Kevin Murphy (Caprica), and Michael Taylor (Star Trek: Deep Space Nine) in collaboration with Universal Cable Productions and Trion Worlds. The latter produced a MMORPG of the same name that released earlier this year and ties in with TV show.
Set in 2046, Earth is now a completely different place after being devastated by war. The Votans had come to Earth looking for a new home after their star system was destroyed in a stellar collision. They thought the planet was uninhabited, but they soon found out this was not the case, as they were received with hostility and suspicion. They tried to resolve matters peacefully, but tension escalated and the Pale Wars started.
It's been fifteen years since the end of the war, and since the armistice. Humans and Votans live in a somewhat peaceful manner, sharing the planet. Our main characters, Joshua Nolan (Blue Heelers) and Irisa Nyira (Atlantis), arrive in Defiance, a city where the aliens and the humans live together in apparent harmony. After a few days they decide to stay there, like a good old western story.
But things start to go wrong, or we wouldn't have a show. It seems Irisa is part of a Votan prophecy, and there are people after her and what she might represent. At the same time, higher powers are interested in controlling Defiance and want to take the city from the Mayor Amanda Rosewater's (Julie Benz, Dexter) hands.
Syfy renewed the series for a second season, and it will premiere on June 2014.
Doctor Who (BBC, Drama)
Currently directed by Steven Moffat (Sherlock) this series is nearing the end of its seventh season, with only one episode left. They are not any episodes, though. One of them will be the 50th anniversary of the TV show and it will count with three regenerations of the Doctor, including the mysterious John Hurt (Harry Potter) one; the other one will mark the "death" of this Doctor, and the regeneration into the Twelfth (Peter Capaldi, The Thick of It).
This last season marked the departure of the Ponds, and the appearance of the intriguing Clara Oswald. As the series progressed we learned more about the new companion's strange past (and future), seeing as she appeared several times as apparently different characters. The Doctor finally learns that she has been travelling through space and time to prevent one of his enemies from erasing his timeline.
She is successful, but she also meets the regeneration that no one knew about until now. He abandoned the name of the Doctor because of his actions, but he still says everything he did was necessary. This mystery is solved in the last episode, which counted with the appearances of Matt Smith (Doctor Who), David Tennant (Harry Potter and the Goblet of Fire), Jenna Louise Coleman (Titanic), and Billie Piper (Secret Diary of a Call Girl).
This episode aired on November 23rd. Then there's the Christmas special, and the eighth season will start on August 2014, rumoured to have 12 episodes.
Falling Skies (TNT, Dystopian)
This TV show was created by Robert Rordan (Warcraft) and produced by Stephen Spielberg (E.T.), and it's about a group of survivors of an alien invasion and how they fight the aliens to get back their planet.
This season the humans have new allies, the Volm. The resistance keeps fighting, and actually winning back some territory. With the help of the rebel Skitters and the new technology the Volm brought they are able to make progress and make a stance. The Espheni don't give up easily, though, and they are using Hal Mason (Drew Roy, iCarly) as a spy and they disrupt a lot of Tom Mason's (Noah Wyle, Donnie Darko) plans.
In the meanwhile Anne (Moon Bloodgood, Terminator Salvation) has given birth to their baby, and it turns out Alexis is not exactly… a normal baby. The Espheni kidnap both of them and Tom spends most of the season looking for them, as well as planning a final attack to their Tower in Boston.
They are successful with this attack, thanks to the Volm. But it seems this alien race had some ulterior motives to help the humans: they want to help them kill the Espheni, yes, but by themselves. They don't need the humans, and they are actually in the way, so perhaps they would be better of in a camp off in… Brazil. Fortunately the group has an ally within the Volm, and he lets them escape so they can continue fighting independently.
The fourth season of the series is set to premiere summer 2014.
Orphan Black (BBC America, Drama)
This series was another one of this year's surprises. It was created by John Fawcett (Ginger Snaps) and Graeme Manson (Endgame), and it's a collaboration between Temple Street Productions (Canada) and BBC Worldwide.
The show follows Sarah Manning (Tatiana Maslany, World Without End) and how her life is turned upside down when she witnesses a woman that looks just like her committing suicide. She tries to steal her identity, seeing as she was in trouble herself, but she soon discovers that she's a part of an experiment. She has several other clones, living nearby or in other continents, and someone is killing every single one of them.
She joins those that are still alive and trying to find about their past. They discover that they are an ongoing experiment done by a scientist who believes in Neolution, the next step of controlled evolution (Matt Frewer, Eureka). They are trying to determine the possible problems of human clothing, as well as personality differences depending on the culture and environment these clones grew up and live in. At the end of the season they find out that "being an experiment" is even worse than they though, as they are literally Neolution's property.
After a great first season (at least in my opinion), BBC America has renewed the show for a second one, premiering on April 2014.
Under the Dome (CBS, Mystery)
Based on a novel by Stephen King (who is also a producer of the show), it was developed by Brian K. Vaughn (Lost 3 – 5) and also counts with Stephen Spielberg as executive producer.
Chester's Mill is a small town in Maine, where nothing ever really happens. That is, until a giant dome appears out of nowhere, cutting the town from the rest of the world. This dome is apparently indestructible, and cuts almost every way of communication, except some limited radio signals.
The story follows the city's inhabitants, and how they react to this situation. The consequences are real, and everything goes south very quickly. When water and food start to end people even kill each other for a chance at one more gallon of water. That's where Dale Barbara (Cloverfield) comes in: a stranger that helps the sheriff get the town in order. At least for a little while.
No one seems to know where this dome came from, but a group of kids finds out that this object (or being) is more sentient than people know. It wants something of them, wants them to intervene in what's happening in Chester's Mill, and claims (through visions) that it's doing it for their safety. Things get even stranger when they found a miniature dome protecting a black egg in the middle of the forest.
The show has been renewed for a second season, which will have 13 episodes. Stephen King will be writing the first episode, which will air in the summer of 2014.
Warehouse 13 (Syfy, Drama)
Created by Jane Espenson (Battlestar Galactica) and produced by Jack Kenny (The Book of Daniel), this series will be entering its last season next year.
Warehouse 13 is a warehouse where the most strange and fantastical artefacts are stored. It was destroyed at the end of the previous season, but by using a time travelling device Artie Nielsen (Saul Rubinek, Leverage) was able to save it. By doing this he has angered an ancient order that wants to protect the world from interventions like this one.
In their searches for an artefact, they get to know Sutton (James Marsters, Buffy the Vampire Slayer), who is immortal. His family is involved in debronzing  Paracelsus (Anthony Head, Buffy the Vampire Slayer), his brother, who also wants to be immortal and will do anything to recreate the Philosopher's Stone. The main story line is centred on trying to stop him from sacrificing millions in order to save himself.
Unfortunately, the series will end on the next season, which will only have 6 episodes. It is still not known when it will air, but it will probably be in the summer of 2014.
Doctor Who – November 23

Continuum – 2014

Orphan Black – April 2014

Defiance – June 2014

Falling Skies – Summer 2014

Under the Dome – Summer 2014

Warehouse 13 – Summer 2014