There are some interesting TV shows coming this fall, appealing to many different tastes. Here you will find a preview of each show, as well as additional information like guest stars and premiere dates. Some of these dates might not be known yet, so check back later for updates!
Fantasy
---
Believe (NBC, Drama)
Created by Alfonso Cuarón (Children of Men) and Mark Friedman* (The Forgotten), Believe also counts with J. J. Abrams (Fringe, Lost) and Bryan Burk (Revolution, Fringe) as its executive producers.
The story follows Bo (Johnny Sequoyah), a little girl with abilities like telekinesis, levitation, and premonition, and a small group known as "True Believers" who are adamant in protecting her from outside threats. Tate (Jake McLaughlin, Crash), a wrongfully imprisoned death row inmate, is recruited to be her full-time protector, but only after they break him out of jail. They believe him to be the only one capable of protecting her, and Bo's gift to see people for who they truly are supports this.
Throughout their journey they will be joined by actors such as Kyle MacLachlan (Twin Peaks), Delroy Lindo (The Chicago Code), Sienna Guillory (Resident Evil series), and Jamie Chung (Once Upon a Time). The show is set to premiere midseason.
*He has left the series, and no replacement has been announced.
Once Upon a Time in Wonderland (ABC, Drama/Adventure)
This Once Upon a Time spin-off was created by the same team as the original show: Adam Horowitz (Lost), Edward Kitsis (Lost), Jane Espenson (Buffy the Vampire Slayer).
It follows the same basic principle as Once, but this time based on the world created by Lewis Carroll. Alice (Sophie Lowe, Beautiful Kate) lives burdened with memories of a world everyone believes to be a flicker of her imagination. Her doctors intend on curing her by making her forget everything, and she thinks she's ready to put everything behind her… Until the Knave of Hearts (Michael Socha, Being Human) and the White Rabbit (John Lithgow, 3rd Rock From the Sun) arrive to take her back to where she belongs.
Characters like the Red Queen (Emma Rigby, Hollyoaks), Cyrus (Peter Gadiot, The Forbidden Girl), and Jafar (Naveen Andrews, Lost) will also join the story. There will also be crossover episodes with Once. Originally picked up for a 13 episode season, it has since received an undisclosed number of additional episodes, and it is set to premiere on October 10.
Reign (CW, Historical Drama)
This series was created and produced by Laurie McCarthy (Ghost Whisperer) and Frank Siracusa (Beauty and the Beast).
A young Mary Queen of Scotts (Adelaide Kane, Teen Wolf) arrives in France, betrothed to Prince Francis (Tony Regbo, One Day). Much depends on this marriage, but several other powers are at play: affairs of the heart, intrigue, politics, and religion. Sebastian (Torrance Coombs, Tudors), Francis' brother, doesn't help the matter by falling in love with Mary. She's dragged into a conspiracy that may threaten her life, while at the same time discovers the existence of dark and mysterious forces that may end up being her only hope.
Member of the court will be played by Megan Follows (Anne of Green Gables), Alan van Sprang (The Tudors), Rossif Sutherland (King), and Anna Popplewell (The Chronicles of Narnia). The series will premiere on October 17.
Resurrection (ABC, Drama)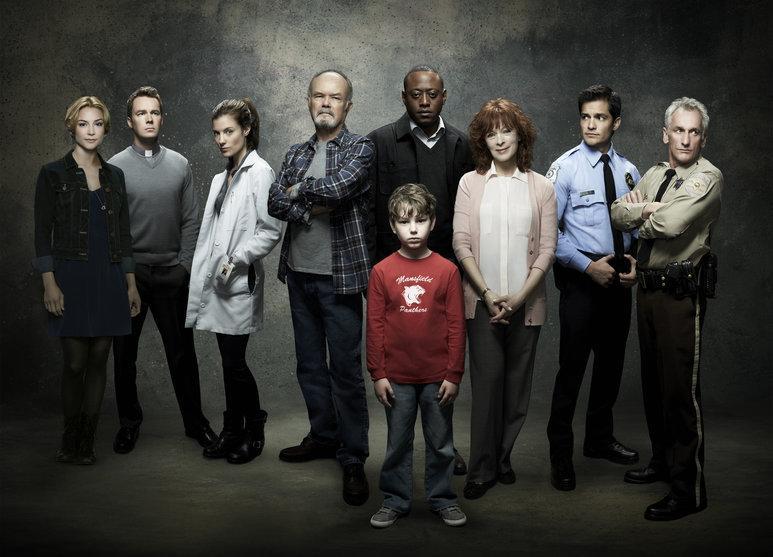 Based on The Returned by Jason Mott, this show was developed by Aaron Zelman (Criminal Minds), Brad Pitt (The Tree of Life), and Charles McDougall (The Office) wrote the pilot.
What would happen if the people you have mourned and buried came back one day as if nothing happened? The residents of Arcadia, Missouri are about to find out when their deceased loved ones start to come back, apparently untouched by their deaths. Jacob (Landon Gimenez), an 8 year old who died 30 years ago, wakes up in a rice field in China not knowing how he got there. Martin Bellamy (Omar Epps, Housei) helps him return home to Arcadia, where he starts to discover that Jacob might know more than he initially lets on.
This show will star Devin Kelley (The Chicago Code), Frances Fisher (Titanic), Matt Craven (Crimson Tide), Kurtwood Smith (That '70s Show), and more. It will premiere midseason, on March 9.
Witches of East End (Lifetime, Drama)
Inspired by Melissa de la Cruz' novel with the same name, this show was created by Maggie Friedman (Eastwick).
The story is focused on the Beauchamp family. Freya (Jenna Dawun-Tatum, Step Up) and Ingrid (Rachel Boston, 500 Days of Summer) have their lives turned upside down when their mother (Julia Ormond, Mad Men) reveals that they are the family's new generation of witches. Now they have to accept their fate as well as fight an ancient enemy intent on ending their family line.
Mädchen Amick (Twin Peaks) and Eric Winter (The Mentalist) will also join the cast. The first episode will air on October 6.
Official Website | No Trailer Yet
Witches of East End – October 6

Once Upon a Time in Wonderland – October 10

Reign – October 17

Resurrection – March 9

Believe – Midseason
Horror
---
Dracula (NBC, Drama)
Created by Cole Haddon and Daniel Knauf (Carnivàle), produced by Gareth Neame (Downton Abbey), this series is a collaboration between NBC and Sky Living.
Based on the famous work of Bram Stoker, it will follow Dracula (Jonathan Rhys Meyers, The Tudors), or in this case Alexander Grayson, who is posing as an American entrepreneur in London. He claims he wants to bring modern science to the Victorian society, but his true goal is to get revenge on those who have betrayed him the past. His plans get sidetracked when he meets Mina Murray (Jessica de Gouw, Arrow), who might very well be a reincarnation of his lost wife.
Thomas Kretschmann (King Kong) will join the show as Abraham Van Helsing, as well as Oliver Jackson-Cohen (Mr Selfridge), Katie McGrath (Merlin) and Nonso Anozie (Game of Thrones). The first episode will air on October 25.
The Originals (CW, Drama)
A spin-off of Vampire Diaries, it was also created by Julie Plec and Leslie Morgenstein.
Set in New Orleans, it follows the show's Original Family. Klaus (Joseph Morgan, The Vampire Diaries) returns to the city his family helped build, drawn by the rumour that someone might be conspiring against him. Elijah (Daniel Gillies, The Vampire Diaries) follows his brother, as does Rebekah (Claire Holt, The Vampire Diaries), and they find that Hayley (Phoebe Tonkin, The Vampire Diaries) is pregnant with Klaus' child, which brings its own set of problems. They fight for control over the city, was has been ruled by Klaus' old mentee, Marcel.
Other The Vampire Diaries' characters will be joining the show, such as Marcel (Charles Michael Davis, Grey's Anatomy) and Sophie (Daniella Pineda, Newlyweds). The premiere will air after the original show on October 3, and then continue airing on Tuesdays (October 8).
Sleepy Hollow (FOX, Mystery)
This show is written and produced by Alex Kurtzman (Fringe) and Roberto Orci (Fringe), and it's a modern day retelling of Washington Irving's short story The Legend of Sleepy Hollow.
250 years after his death, Ichabod Crane (Tom Milson, Parade's End) wakes up in modern day Sleepy Hollow. But he's not the only one: his infamous nemesis, the Headless Horseman, is back as well, ready to continue his murderous rampage. Ichabod has to pair up with the town's new sheriff, Abbie Mills (Nicole Beharie, Shame), who's had her own supernatural experiences. Together, they start to uncover the town's secrets, including secret societies pledged to fight evil… and good.
Orlando Jones (The Chicago 8) and Katia Winter (Dexter) will also join the show, and John Cho (Star Trek) will guest star. The series is set to premiere on September 16.
Sleepy Hollow – September 16

The Originals – October 3

Dracula – October 25
Science Fiction
---
The 100 (CW, Dystopian)
Based on a book with the same name by Kass Morgan, the show was developed by Jason Rothenberg (Body Politic) and produced by Leslie Morgenstein (Pretty Little Liars).
Nearly a century ago, nuclear war destroyed Earth's civilization, leaving only 400 inhabitants of the space stations that orbited the planet at the time. There are now ten times more survivors, but the resources are coming to an end. With the hope of finding a solution, 100 juvenile prisoners are sent back to Earth to explore the possibility of re-colonization. They must learn to work together on a planet that is different from everything they know, and which might be more dangerous than they imagined.
The cast is comprised by Eliza Taylor (Neighbors), Henry Ian Cusick (Lost), Kelly Hu (Warehouse 13), Isaiah Washington (Grey's Anatomy), Marie Avgeropoulos (Cult), and others. The series is planned for a midseason debut.
Agents of S.H.I.E.L.D. (ABC, Action)
One of the most anticipated new series for this Fall, it was created by Joss Whedon (Firefly), Jed Whedon (Dollhouse), Maurissa Tancharoen (The Avengers), and Jeffrey Bell (Angel).
S.H.I.E.L.D. (Strategic Homeland Intervention, Enforcement, and Logistic Devision) is a well known organization within the Marvel Universe. This series will revolve around Agent Phil Coulson (Clark Gregg, The Avengers) and his team of agents, trained to handle special and strange cases, and to protect the ordinary from the extraordinary.
Team members will be played by Ming-Na Wen (Eureka), Brett Dalton (Killing Lincoln), Chloe Bennet (Nashville), Ian de Caestecker (Young James Herriot), and Elizabeth Henstridge (Delicacy). Cobie Smulders (How I Met Your Mother) will also reprise her role as Agent Maria Hill. The show will premiere on September 24.
Almost Human (FOX, Action)
J. J. Abrams (Fringe) and Bryan Burk (Lost) team up again as executive producers, this time with J. H. Wyman (Fringe) as the series showrunner.
In the near future, policeman in the LAPD are paired with life-like androids. John Kennex (Karl Urban, Star Trek), someone with a particular dislike to robots, goes back to work after being away due to a tragic accident that left him depressed and rejecting his new mechanical leg. He is introduced to Dorian (Michael Ealy, FlashForward), an android with unexpected emotional responses. These are deemed as flaws, but they are also what connects the two of them, one being part-machine, the other being part-human.
They will be joined by Lili Taylor (The Conjuring), Mackenzie Crook (Pirates of the Caribbean), Michael Irby (Law Abiding Citizen), and Minka Kelly (500 Days of Summer). The show will premiere on November 4.
Intelligence (CBS, Action)
Created by Michael Seitzman (North Country) and David Semel (American Horror Story), it's based on the novel Phoenix Island by John Dixon.
Intelligence follows the story of Gabriel Black (Josh Holloway, Lost), the first agent who has been implanted with a micro-chip in his brain. This high-tech device allows him access to almost unlimited information, and he can detect anything and anyone. He's assigned a Secret Service agent, Riley O'Neil (Meghan Ory, Once Upon A Time), so she keeps him from breaking the law, and from falling into the enemy's hands.
The cast list counts with other names such as John Billingsley (Enterprise), Marg Helgenberg (CSI), Michael Rady (The Mentalist), and guest star appearances by Will Yun Lee (Total Recall) and P. J. Byrne (Horrible Bosses). The first episode will air on February 24.
Star-Crossed (CW, Romance)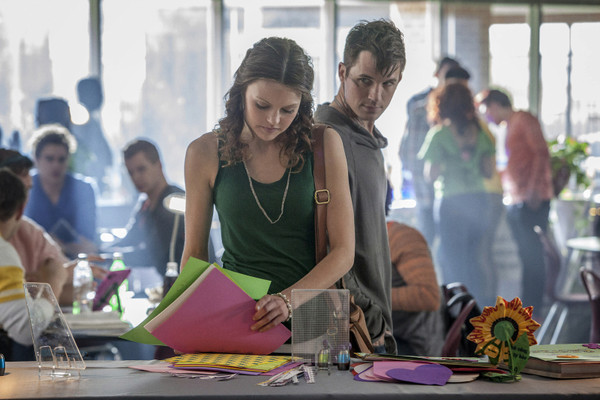 This series was written by Meredith Averill (The Good Wife) and produced by Josh Appelbaum (Mission: Impossible – Ghost Protocol).
Eight aliens are enrolled in a suburban high school with the intention of testing if integration can actually work. Emery (Aimee Teegarden, Friday Night Lives), a human girl, falls in love with Roman (Matt Lanter, 90210), the alien boy she saved so many years ago when his spaceship crashed. They are caught in the middle of a political war of prejudice and hunger for power as they fight for love and peace between their species.
The series stars Grey Damon (The Secret Circle), Natalie Hall (Pretty Little Liars), Malese Jow (The Vampire Diaries), and is planned for a midseason premiere.
The Tomorrow People (CW, Drama)
Based on the UK series of the same name, this one was developed by Phil Klemmer (Chuck) and produced by Greg Berlanti (Arrow) and Julie Plec (The Vampire Diaries).
The story is focused on a group of young people that represent the next step of the human evolution: they possess powers like teleportation and telepathy. Stephen Jameson (Robbie Amell, Life With Derek) used to be a "normal" teenager until he started to hear voices, and teleporting in his sleep. That's when he finds the Tomorrow People, other people just like him. They are being hunted by a group of scientists who believe they might be a threat, so they have to hide underground. Stephen has to decide if he wants to help them, or return to a world that will never truly understand him.
Luke Mitchell (H2O: Just Add Water), Peyton List (Mad Men), Aaron Yoo (Disturbia), and Mark Pellegrino (Supernatural) will also star in the show, which will air on October 9.
Agents of S.H.I.E.L.D. – September 24

The Tomorrow People – October 9

Almost Human – November 4

Intelligence – February 24

The 100 – Midseason

Star-Crossed – Midseason